The factory/OE rear brake hose on these cars is a single piece with a rubber brake hose at each end and a solid metal joiner pipe which cannot be reused due to the way the rubber hoses are fitted into the metal pipe.
Our braided rear brake hose kit comes complete with 4 braided hoses (2 for each side) and 2 copper joiner hoses (again one for each side). Unlike some other supplied brake hose kits we do supply the copper joiner pipes with male unions pre-fitted, to make fitting braided rear brake hoses a much more straightforward job.
Additionally the brackets that are used on the factory rear brake hoses can be re-used with our rear brake lines, as this is often queried by people.  We've uploaded a few fitting images to show you how its done.
Once the vehicle is securely on a ramp/vehicle lift or axle stands work can commence. Firstly depress the brake pedal  hold it in place to help prevent release of brake fluid during dis-assembly.
Once the factory/OE rear brake line is disconnected from the underbody of the vehicle and the rear caliper (watch out for loss of fluid and catch it as necessary), the brackets can be unbolted from the rear beam and the backplate (keep the torx bolts) and the whole lot lifted clear.
With the OE brackets held in a vice, the OE brake hose fittings can be tapped clear using a punch and small hammer, leaving the brackets free.
Measure the replacement brake line unions and open up the relevant holes in the brackets to the correct size; about 13.8mm. If necessary a small wrap of PTFE tape can be used to secure the brake fitting union into the brackets for additional security.
The brackets can now go back onto the car to allow the braided hoses to be fitted. Do not over tighten the brake hoses into the copper brake pipes. Once everything is fitted bleed the rear brake calipers out and ensure you have no leaks from the system when pressure is held on.
Some pictures of the brake lines being fitted using the factory/OE brackets.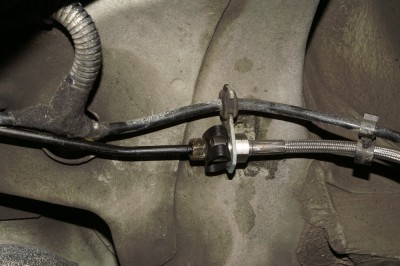 The following images show the upper and lower brackets which require opening up to about 13.8mm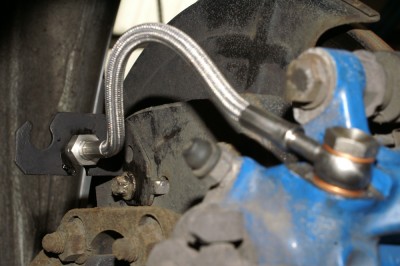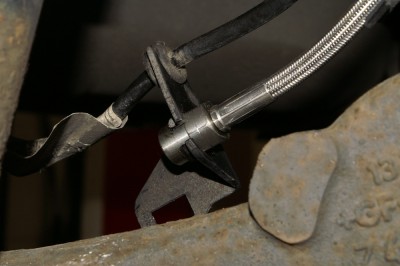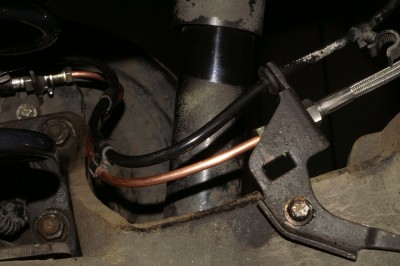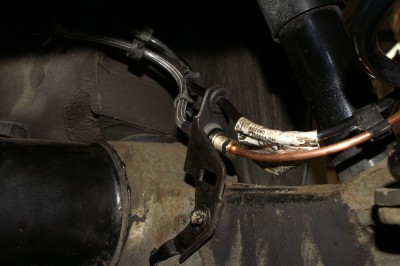 Important Note: E&OE. This is only a guide. If you are unsure what you are doing, seek help and advice from a professional. Courtenay Sport Ltd accept no responsibility whatsoever for any work you carry out on your own vehicle(s), or damage to property or persons.