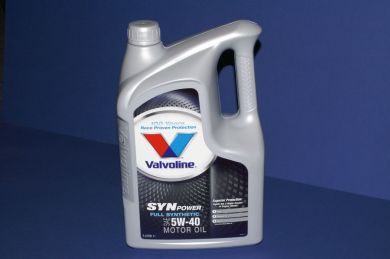 Engine Oil:
One question we are often asked with regards to turbocharged engines is which oil should be used?
There are many choices of oil on the market, and different people will give you different answers as to which is best and why.
For Pre-2011 Vauxhall/Opel cars the OE spec for oil is LL-A-025/LL-B-025 (Petrol/Diesel). For 2011 on models this spec has been replaced by GM Dexos2™ spec. Dexos2™ spec oil is backwards compatible.
Our advice for pre-2011 Vauxhall/Opel petrol 2.0 Turbo and 1.6 Turbo engines fitted with K03/K04/K06 turbo units is to use a high quality fully synthetic engine oil with a viscocity of 5w-40 for fast road and track day use, which meets or exceeds API:SM SN/CF and ACEA A3/B4 classifications. This can also be used in engines fitted with Garrett or similar turbo conversions.
Our suggested choice is Valvoline SynPower 5w-40 Fully Synthetic Engine Oil which we run in our road and trackday cars and which we have also run in Astra H VXR race cars without issue. Millers Engine Oil is another suggestion for high quality oil; one of many oils available. For more spirited use the Millers CFS 5w-40 NT+ is a good choice.
It is suggested for engines used for hard use that oil temperature and useage are constantly monitored which will identify if a different grade of oil is required.
2011 onwards engines require a high quality oil meeting Dexos2™ spec, according to the factory..
The key is to use a high quality fully synthetic oil and to keep the oil in turbocharged engines changed regularly. On modified cars it is sensible to ignore the extended drain intervals that manufacturers suggest and stick to more frequent changes. Oil that is changed regularly keeps an engine clean. Our recommendation is 5,000 mile change intervals for a turbocharged engine, especially for cars experiencing hard use, but at for cars covering 7,500-10,000 miles at least an annual oil change is recommended. We do not recommend exceeding 10,000 miles between oil changes.
Gearbox Oil:
For manual gearboxes such as M32, F23, F40, F20 we suggest the use of a high quality fully synthetic gearbox oil, viscocity 75w-90.
Our choice is Millers CRX NT+ 75w-90 for fast road and also for trackday use where higher gearbox oil temperatures may be sustained. It is suitable for gearboxes fitted with a geared LSD such as Quaife or Wavetrac.
Where an M32 or F40 gearbox has a factory fitted Drexler plate type LSD use the Millers CRX NT+ 75w-90 LS Spec gearbox oil, which has a special additive for use with a plate type differential.
If in doubt please check your individual gearbox requirements for oil, or contact us.
Again with gearbox oil it is always worthwhile considering regular oil changes, especially on the M32 gearbox where a 20,000 mile oil change will do no harm.