Shopping Basket
Your Basket is Empty.
0
Items in Basket:
£0.00
Total:
Sales Enquiries
Monday - Friday:
9am - 1pm 2pm - 5pm
Saturday: 9am - 12pm
01692 404313
01692 404060

Fax:

01692 404069
| | |
| --- | --- |
| | +44 1692 404313 |
| Fax: | +44 1692 404069 |
info@CourtenaySport.co.uk
Star Product
Featured Product
Secure Online
Secure Online Payments
Information
Products: 1141
Prices: British Pounds £GBP
Customers Online: 140

Mailing List

V6 Tuning

The GM V6 engines are super-silky smooth and rev like turbines (if allowed) but to be honest they just do not seem to have the 'punch' that you would expect. Extensive analysis of this problem indicates that these engines have an inherent 'breathing' problem.
Also these engines are fitted with an extremely heavy flywheel; some 15 kgs. This is because the V6 units are marketed world-wide and for some overseas emissions e.g. the USA, in order to comply with these stringent regulations they must have the ability to idle as low as 425 rpm!
However, in Europe we do not require this low idle, so we are able to offer lightweight flywheels with a huge weight reduction. This vastly improves the throttle response and greatly enhances the engine's acceleration curve.



| | |
| --- | --- |
| Therefore we have developed a range of components aimed specifically at resolving these problems. They are available as separate parts or alternatively we have grouped them into several performance packages. | |
V6 Tuning Packages
CS 1
Lightweight Steel Billet Flywheel. Reduces the weight of the flywheel by 9.8 kgs and gives a much greater willingness to rev and transforms the driveability of the car.


£675 Fitted
CS 2
Lightweight Steel Billet Flywheel, Remap, Airbox and Induction Re-work, Performance High Flow Air Filter, 8.5mm Magnecor Competition Plug Leads.



Increases up to +12 bhp
£1,210 Fitted
CS 3
Lightweight Steel Billet Flywheel, Remap, Airbox Modifications and Performance Air Filter, 8.5mm Magnecor Competition Plug Leads, Uprated Sports Camshafts, 4 Bar Fuel Pressure Regulator.
Increases up to + 25bhp (+18 bhp GSi)
£2,030 Fitted
Best performance improvements will be obtained on a vehicle fitted with a full sports exhaust system and a 200 CPI sports cat for maximum exhaust gas flow. Additional items can be added to our CS Tuning Packages, which are now applicable to Vectra B (2.5/3.0), Calibra, Cavalier and Omega V6 models.
Note: Package prices quoted are for front wheel drive models.
3.0 into 2.5 Engine Swap
| | |
| --- | --- |
| | Courtenay can now offer you a brand new 3.0 V6 in exchange for your 2.5 V6 unit. This gives you an instant 40bhp increase, but much more importantly for a road car, it gives the driver a generous 35lb/ft of torque increase and instantaneous throttle response. |
This conversion really plays out the old adage "there is no substitute for cubic capacity." Our conversion also includes a brand new 3.0 V6 engine - price fitted from £POA .


Click Here to see the Power Graph for 3.0 V6 compared to 2.5 V6
3.2 V6 into Vectra B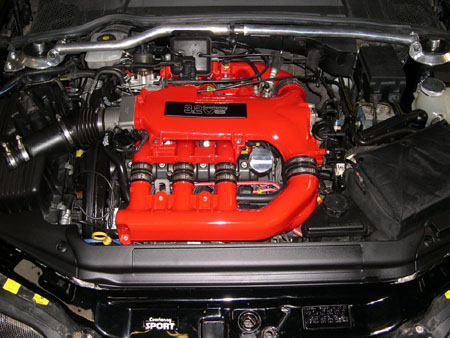 We now offer the 3.2 V6 engine transplant into 2.5 V6 Vectra B from £POA using a new engine. At the time of transplant we can also offer head re-working, sports camshafts, lightweight flywheel or any of our other tuning components to compliment the conversion.
NGK Iridium Spark Plugs
NGK cooler running Iridium spark plugs for an enhanced spark over the standard plug. Suitable for X25XE, Y26SE, X30XE, Y32SE. £49.50 per set

V6 Remap
Price

Remap (approx 7-12 bhp increase)
Improvements in power and torque across the rev range with improved driveability. Works well with high flow filter and airbox modifications.

£305.00 Fitted
Milltek Sport 2.5 V6 Downpipes and Sports Exhaust System.
For best exhaust gas flow from the engine with the minimum of restriction a good free flowing sports exhaust and 200 cpi sports cat are required, especially on any modified car.

Developed with Milltek Sport our V6 Sports Downpipes, made from high grade stainless steel, are a larger diameter than the standard downpipes and feature a built in 200 cpi HJS motor sports cat. They allow greater flow and give a significant improvement in power, torque and response. Suitable for the Vectra B 2.5 V6 Only - (Special Order Item. Min Qty 5)

Standard Vectra 2.5 V6 Downpipes


Courtenay Milltek 2.5 V6 Sports Downpipes


Milltek Stainless Steel Cat Back Sports Exhaust System. An ideal compliment to the sports downpipes, but will also fit to standard downpipes. Test have shown this system an improvement in power over the current 'best on the market' system. Finished with twin slash cut tailpipes (similar to late GSi) - (Special Order Item. Min Qty 5)
Weld In Cat
200 cpi weld in sports cat to replace the standard more restrictive catalyst from £395.
Uprated Sports Camshafts
Our uprated sports camshafts have been developed to improve not only power but also the all important torque needed on a road car. On the 2.5 V6 (non GSi) you will see an increase of around 15bhp and on the 3.0 V6 an increase of around 18bhp. They are suppled on an exchange basis as a set of four.

Price
Fitting

High torque cams 2.5 (+15 bhp)

£390
£430.00

High torque cams 3.0 (+18 bhp)

£390
£430.00
CS10 Heads
Courtenay Sport CS10 will give approximately a 10% improvement in both torque and brake horsepower - right across the board! It comprises of a head, which has been overhauled with new guides if necessary, and new stem seals. The valves are also renewed if necessary but in any event are reprofiled in the stem and the head. The ports are reprofiled (not merely opened out) and the seats recut with compound angles. The ports and combustion chambers are then not polished, but sandblasted specifically to take away the polishing effects of the machining work. This has a major influence on improving the torque and fuel economy (another bonus we did not mention before!).

V6 12v Heads (pressure test, clean,rework to cylinder head, port, polish, recut valve seats, reface) from £690 per head Fitting from £864.00
Uprated 4 bar Fuel Pressure Regulator
| | |
| --- | --- |
| For improved throttle response, our uprated fuel pressure regulator is avalable for 2.5 V6 and 3.0 V6 engined cars and is priced at £60.25 | |
Courtenay Sport Air Filter
Our high flow, high efficiency air filter uses a special foam which gives better airflow than even the most popular cotton gauze aftermarket filters. Our filters offer the very highest level of dirt retention and protection of course! After all we're engine builders! and you can clean it and reuse it just like most other performance filters. Supplied pre-oiled for first use. Filter oil is available seperately for subsequent re-oiling after cleaning.

Price £34.95 Filter Oil £4.05

To get the most from your air filter we can modify your airbox and inlet feed pick up to derestrict them. (as in our CS packages)

Price fitted £29.95
Ultra Light Billet Steel Flywheel
We have managed to reduce the weight of the V6 flywheel to

5.2 kgs

, that's a saving of 9.8 kgs. To achieve this we start with a block of billet steel. This is machined to the profile required. Using billet is the only way to get such a light unit whilst retaining maximum strength. These flywheels are outright purchase and no exchange unit is required.

This is the ultimate in V6 Flywheels.
Please note: Other less expensive billet flywheels on the market claim to be the lightest at 6.7kgs ..... they are in fact in excess of 1kg heavier than our product!

2.5 V6 Lightweight Billet Steel Flywheel - £301.50 Fitting (FWD) £420
2.6 V6 Lightweight Billet Steel Flywheel - £301.50 Fitting (FWD) £420
3.0/3.2 V6 (Vectra B) Lightweight Billet Steel Flywheel - £301.50 Fitting (FWD) £420
When using the V6 flywheel in Omega different flywheel bolts and clutch are required.


Fast Road Sports Clutch
Our sports clutch is 10mm larger in diameter (Vectra B) and offers greater clamping pressure and larger surface area completely filling the available aperture in the flywheel. It will withstand increases in power and torque without the slipping that may occur with a standard unit yet still retain the drivability of a standard clutch. Ideal for any fast road car. Suitable for all V6 applications.

Price: £NLS for hydraulic operated clutches - Vectra V6

Price: £219 for cable operated clutches - Cavalier/Calibra
Fitting available.
Competition Clutch
For fast road cars which have had 3.0 and 3.2 V6 engine transplants and that have had additional performance modifications, we specify this further uprated 'competition' clutch cover and disc, with greater clamping pressure capable of taking higher levels of power and torque but still with good driveability and road manners.

Price: £450 for Vectra V6 applications


Hydraulic Slave Cylinder £119.95 (when supplied with clutch) Fitting £420.00.
Moddified OE Throttle Bodies
To a large extent, the power and torque out put on any engine is dependent on the volume of air its capable of drawing in. Research shows that the standard GM throttle bodies fitted to most Vauxhall engines are undersized and act as a bottle-neck to the inlet charge, pegging back power and torque. To over come this we dismantle the OE throttle body and use a CNC lathe to enlarge the diameter of the unit, as well as installing a new, bigger throttle disc and low profile spindle to suit. Typically, this results in an increase in full throttle cross sectional area of between 10 and 20%. The result? Improved torque and power outputs usually in the order of 4 to 7 bhp, as well as superior throttle response and a sharper feel to the engine. All throttle body reworking is carried out on an exchange basis.

Cavalier, Calibra V6 .... £260.50

Omega 2.5 & 3.0 Twin butterfly .... £352.95
Modified OE Throttle Body - Vectra 2.5 V6
We have a new throttle body conversion for the 2.5 Vectra. The throttle body is supplied on an exchange basis. The conversion involves the standard "OE" throttle body being stripped down. The housing is machined out to accommodate a larger throttle butterfly which is attached to a new low profile spindle, providing a 21.5% increase in throttle area at full throttle. This gives an increase of 6-8 BHP.
Cross Sectional Areas.
Standard Vectra 2.5 Throttle Body 2613mm 2
Modified Vectra 2.5 Throttle Body 3178mm 2

Price £260.50 (exchange). Fitting £144.00
Reworked Inlet Manifold Centre Section
We can also rework the centre section of the inlet manifold on the Vectra 2.5 V6 engine for improved airflow at a cost of £49.95 (exchange).
Please note that we include this reworking in the fitted price on the throttle body conversion listed above for Vectra 2.5 V6 when fitted in house. Not suitable for Cavalier/Calibra or Omega V6 engine.
Cool Thermostat
Our cool running thermostat reduces the engine's normal running temp by 10 degrees protecting the engine and running it closer to it's optimum power temperature.

Thermostat £25.50 Fitting £144
Water Wetter
Helps to aid the heat transfer of the coolant for even greater cooling ability and head temperature reduction.

A 355ml bottle of Water Wetter suitable to treat one cooling system, which aids the heat transfer of the coolant for even greater cooling ability and head temperature reduction.

Water Wetter - £15.25
F23 4.17 Lower Final Drive Ratio
| | |
| --- | --- |
| Suitable for the 2.5 V6 F23 gearbox, this lowers the final drive ratio by 8.7% for faster acceleration. £POA | |
Lightweight Alloy Bottom Pulleys
Manufactured from high quality 6082 T6 billet alloy our lightweight pulley weighs 1.4 kg less than the standard item. Balanced to a higher standard than the OE unit they allow for improved engine response and smoother high rpm running.

V6 Multi V Alloy Pulley for 2.5 V6 and 3.0 V6 - £135
8.5mm Magnecor Leads
These competeition leads offer excellent performance and are less likely to breakdown, due to heat from the engine, causing running issues and misfires.
Application
Price
Cavalier 2.5 V6
£192
Calibra 2.5 V6
£192
Vectra B 2.5 V6
£192
Omega 2.5 V6, 3.0 V6
£192
© Copyright Courtenay Sport Ltd
---
Back
Latest News
Shopping Basket
Your Basket is Empty.
0
Items in Basket:
£0.00
Total:
Top Questions
Popular Products
Sale Items
Compatibility
Our website has been checked with most popular browsers. We advise using the latest version of your preferred browser.